Quinoa Recipes
Enjoy this vastly nutritious grain
Quinoa is taking off in popularity as people discover it's wonderful flavor, short cooking time, and high nutritional value. Unlike most whole grains, quinoa tends to be more alkaline. This is just one of the many reasons quinoa is in the list of top four healthy grains currently promoted by nutritionists.
But you don't have to know how healthy quinoa is to enjoy it's flavor and versatility.
Cooking quinoa is little different than cooking other grains, except for one thing -- you must get rid of the bitter saponin that coats and protects the grains before cooking. Rinsing, soaking, toasting, and buying pre-rinsed grains are all options for dealing with the saponin. See the Cooking Quinoa page for more information.
The recipes here utilize the soaking method used with all grains, not just to eliminate the saponin but also to neutralize phytic acid, an anti-nutrient, and to increase digestibility and nutrient availability. The quinoa will swell during soaking to sometimes twice its original size, so less water is needed for cooking (about 1/4 cup less water per cup of grain).
Quinoa can easily be substituted for other whole grains in your favorite recipes, especially for brown rice or whole wheat cous cous. Most pasta salad recipes can be converted to grain salads by switching out the pasta with quinoa. I like them better that way! (and I was an avid pasta-lover.)
Toasting the quinoa grains before cooking will give it a stronger flavor. You can toast with a little butter or oil, or in a dry skillet, stirring constantly, for just a few minutes. I haven't tried this with soaked quinoa, but I know it works with unsoaked.
For special occasions, consider locating some red quinoa for a beautiful presentation.
Shrimp and Red Pepper Quinoa
This dish works great for a Fettucine Alfredo lover like me. I love hot, creamy pasta dishes, but don't care for the overly processed noodles anymore. Quinoa works perfectly. And yogurt adds all those wonderful probiotics to your meal, if you don't over-heat it.
Shrimp and Red Pepper Quinoa
---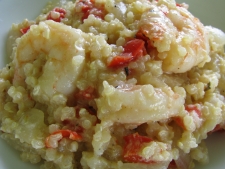 1 1/2 tablespoons butter or coconut
    oil
1 medium red bell pepper, diced
1 medium onion, diced (purple would
    be beautiful)
1-2 cloves garlic, minced
16-20 medium cooked shrimp
1/4 teaspoon dried basil
1/4 teaspoon dried thyme
2 cups cooked quinoa
1 tablespoon white wine
1/4 cup Parmesan cheese
1 - 1 1/2 cups full-fat yogurt
salt and pepper, to taste
Saute the pepper and onion in butter or coconut oil until tender, adding some salt midway. Add garlic, shrimp, basil, and thyme, stirring occasionally, til heated through. Add quinoa, wine, and cheese, stirring to heat evenly. Turn heat to low. Wait a few minutes for pan to cool sufficiently, then stir in yogurt. Don't let the yogurt cook too much, just heat enough to warm it, and then remove pan from heat. Taste for salt and pepper.
4-6 servings
Quinoa with Black Beans and Corn
This is a healthy dish full of Mexican flavors, with baby corn offering a sweet crunch. Spice it up as much as you want. It can also be served at room temperature with crackers for a healthy snack or appetizer. Leftovers are good wrapped in a tortilla with lettuce and thickened yogurt.
Quinoa with Black Beans and Corn
---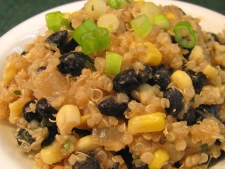 2 teaspoons olive oil
1/2 medium onion, chopped
2 cloves garlic, peeled and minced
1/2 cup uncooked quinoa, soaked for
    7-24 hours, soaking water poured
    off and grains rinsed
7/8 cup water
scant teaspoon vegetable bouillon
1/4 teaspoon ground cumin
1/8 teaspoon cayenne pepper, or to
    taste
1 cup fresh or frozen baby corn
1/2 can black beans, drained and rinsed (or 7-8 ounces cooked      frozen black beans)
salt and pepper, to taste
2 tablespoons fresh cilantro, minced (optional)
2 green onions, sliced
Heat oil in medium-sized saucepan over medium heat. Add onion and garlic and sauté til lightly browned, about 5 minutes.
Add quinoa, water, bouillon, cumin, and cayenne pepper. Stir and bring to a boil. Reduce heat, cover and simmer 15 minutes or until most of the water is absorbed.
Stir in corn and continue cooking about 5 minutes. Add black beans and cilantro (if using), and mix thoroughly. Check salt, top with green onions, and serve.
4 servings
Greek Quinoa Salad
This recipe is a perfect example of turning a pasta salad recipe into a grain salad. It's better served at room temperature and after sitting for awhile or chilling overnight.
Greek Quinoa Salad
---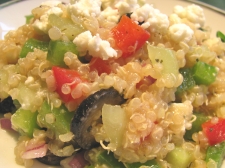 1 cup quinoa, soaked
1 3/4 cup water, stock, or broth
1/2 cup green pepper, diced
1/2 cup red pepper, diced
1/2 cup cucumber, diced
1/4 cup red onion, diced
1/4 cup green onions, sliced
1/4 cup black olives, sliced
3 ounces feta cheese
2 tablespoons pine nuts, toasted
    (optional)
1 tablespoon fresh parsley, minced (optional) Dressing:
1/4 cup fresh-squeezed lemon juice (approximately 2 small or
    medium lemons)
2 tablespoons olive oil, extra virgin cold-pressed
1 teaspoon garlic, minced
1/2 teaspoon dried basil leaves (or 1 teaspoon fresh)
1/2 teaspoon dried oregano leaves (or 1 teaspoon fresh)
1/4 teaspoon black pepper
Bring water to a boil in medium saucepan. Stir in quinoa and turn heat to low. Cover and gently simmer for 15-20 minutes, or until water is absorbed. Remove from heat and let sit, covered, for 5-10 minutes.
When quinoa has cooled sufficiently, stir in prepared vegetables, black olives, and feta cheese. Whisk together dressing ingredients and stir into quinoa mixture. Garnish with pine nuts and parsley, if using.
6-8 servings
Breakfast Quinoa
Breakfast Quinoa is divine simplicity. And it works for more than just breakfast, easily doubling as a quick and easy anytime snack.
While it's great with freshly cooked, hot quinoa, I find it equally appealing with leftover quinoa brought to room temperature on the counter for 20-30 minutes. I often travel with this dish, assembling it in a plastic lidded container, and packing a spoon in my purse.
Breakfast Quinoa
---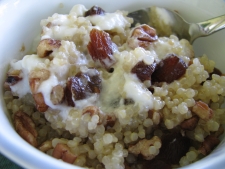 1 cup (or more) soaked and cooked
   quinoa
1/4 cup (or more) plain yogurt
1-2 tablespoons chopped pecans
1-2 tablespoons chopped dried fruit (I
   used sulphur-free apricots)
drizzle of agave nectar (optional)
To hot or room temperature cooked quinoa, add toppings to taste, stir a bit, and enjoy.
1 serving
Return to top
Go to Cooking Quinoa page
Return to Easy Healthy Recipes page