Healthy Salad Dressing Recipes
Easy recipes to dress your salads healthfully
We all know the importance of eating generous quantities of raw salads, and we can increase the health benefits of those salads by choosing healthy salad dressing recipes.
Complicated dressing recipes are fun to play with on occasion, but we need quick and easy dressing recipes to rely on regularly. Nothing is as healthy as whipping up a fresh dressing from raw ingredients just minutes before the tossing the salad.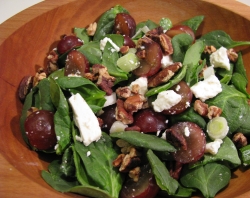 A major factor in a healthy salad dressing is a high-enzyme content from quality natural ingredients. Raw foods such as cold-pressed oils, raw vinegars, fresh lemon juice, live yogurt and/or whey, and fresh herbs all contribute necessary enzymes.
The preferred ratio of oil and vinegar in salad dressings is a personal one. In America, we generally make dressings with 3 parts oil to one part vinegar, while parts of Europe prefer 5 parts oil to one part vinegar. Taste before tossing, and adjust any recipe to suit your preference.
Lemon Vinaigrette
Fresh and light, you can't go wrong with a simple lemon vinaigrette, and you enjoy all the health benefits of fresh lemon juice. Don't use bottled lemon juice, as it doesn't have the same benefits.
Lemon Vinaigrette
---
2 tablespoons fresh-squeezed lemon juice (approximately 1 small
      lemon)*
1/4 cup extra-virgin olive oil
1/2 teaspoon Dijon-style mustard
sea salt and pepper to taste
Whisk all ingredients together in a small bowl, or place in a jar and shake vigorously.
Store any leftovers in the refrigerator.
*To get the most juice: use a room temperature lemon and roll it firmly with your palm on the countertop a few times before cutting it.
Yield: 3/8 cup
Variations:

Lemon Pepper Vinaigrette - add more pepper (about 1/2 teaspoon)
Herbed Lemon Vinaigrette - add 1 teaspoon chopped fresh herbs or 1/4 teaspoon dried herbs
Lemon-Paprika Vinaigrette - add 1/2 teaspoon smoked paprika
Creamy Lemon Dressing - add plain yogurt
add 1 teaspoon ground flax seed or flax seed oil for the health benefits
Note: Since the amount of juice from lemons varies, I just squeeze the lemon juice into a clear container, then add 2-3 times that amount of oil, add my other ingredients, and whisk together. If the lemon is way too shy on juice, I make up the difference with a little raw apple cider vinegar.
Basic Nourishing Traditions Dressing
This basic dressing comes from Sally Fallon's book Nourishing Traditions, and is another easy healthy recipe to form the backbone of a good dressing. Fallon offers several different variations.
Basic Dressing
from Nourishing Traditions
---
1 teaspoon Dijon-type mustard, smooth or grainy
2 tablespoons plus 1 teaspoon raw wine vinegar
1/2 cup extra virgin olive oil
1 tablespoon expeller-expressed flax oil
Dip a fork into the jar of mustard and transfer about 1 teaspoon to a small bowl. Add vinegar and mix around. Add olive oil in a thin stream, stirring all the while with the fork, until oil is well mixed or emulsified. Add flax oil and use immediately.
Note: Salt and pepper in Fallon's dressing recipes is left to the discretion of the cook.
Yield: 3/4 cup
Variations:
Herb Dressing - add 1 teaspoon finely chopped fresh herbs, such as parsley, tarragon, thyme, basil or oregano
Garlic Dressing - add 1 clove garlic, mashed, and let dressing sit a few minutes before serving
Balsamic Dressing - substitute balsamic vinegar for the wine vinegar
Sun Dried Tomato Dressing - add 1 teaspoon sun-dried tomato flakes and 1 teaspoon chives or green onion, finely chopped, and allow dressing to sit a few minutes before serving
Creamy Dressing - add 1/4 cup piima cream or creme fraiche (I've used 1/4 cup thickened plain yogurt)
Blue Cheese Dressing - add 2-4 tablespoons crumbled blue cheese, pulse a few times in a food processor or mash cheese into dressing with a fork
Raspberry Dressing
This is a delight for the senses! Since raspberry vinegar can be hard to find and quite pricey if you do find it, alternatives are offered.
Raspberry Dressing
---
1/4 cup raspberry vinegar
1/4 cup extra virgin olive oil
2 teaspoons agave nectar
1 teaspoon Dijon style mustard
1/8 teaspoon dried oregano
1/8 teaspoon black pepper
In a small bowl, whisk ingredients together, or place in a jar or bottle and shake well.
Yield: 1/2 cup
Goes great with spinach, red grape, toasted pecan, feta cheese and green onion salad. Or with red lettuce, mandarin orange, and toasted almond salad.
Variations:
Add plain yogurt for a creamy dressing - this will also go well on a fruit salad or slaw
Use 1 tablespoon high-quality raspberry preserves instead of the agave nectar, and balsamic vinegar in place of the raspberry vinegar
Use 3 tablespoons high-quality raspberry-flavored yogurt and 2 tablespoons white wine vinegar in place of the raspberry vinegar and agave nectar
Goldbeck's Creamy Blue Cheese Dressing
This thick and creamy dressing is from the Goldbeck's American Wholefoods Cuisine, and is one of the easiest recipes for a healthy blue cheese dressing.
Thick Creamy Blue Cheese Dressing
from American Wholefoods Cuisine
---
1/2 cup plain yogurt
2 tablespoons mayonnaise
1/4 cup crumbled blue or Roquefort cheese
Combine all ingredients and mix well.
Yield: 3/4 cup
Easy Fruit Salad Dressing
This is a simple and healthy way to dress fruit. You can try lemon or grapefruit juices (adding perhaps a bit of natural sweetener) for variation.
Easy Fruit Salad Dressing
---
orange juice
plain yogurt
While preparing the fruits, drizzle orange juice over occasionally, stirring to coat the fruit pieces. When fruit is done, stir enough yogurt in for the consistency you like.