The Best Millet Recipes
Unlike quinoa, with which I had an instant love affair, millet and I had a rough first introduction. I scorched the bottom of the pan but thought the top part was salvageable. Eager to have my first taste of this "new" grain, I sat down with a big scoop of it. Not only did it taste burned, but it was pasty and beyond bland, downright awful. I ended up feeding it to the chickens. (Who loved it, by the way!)
It was a long time before I found the enthusiasm to give millet another try. But I'm so glad I did!
I absolutely love millet now. The greatest thing about it is how it makes me feel afterward -- satisfied. And not just satisfied from a full belly, but satisfied in a way that has me walk away from the kitchen to pursue other activities instead of scrounging in the cupboards for something else to eat. Perhaps that's what "nourishment" is supposed to feel like.
I know now what went wrong with that first batch of millet I made - I followed the directions too literally. Millet, more so than other grains, can vary in its cooking habits, so you do need to check on it occasionally, and even taste a bit from the top. If it doesn't taste done, and even if all the water has been absorbed, you might need to add more water and cook longer.
It's worth every minute of your time to get familiar with millet since it's one of those top-rated grains you're probably hearing a lot about these days.
I'm constantly on the lookout for new and delicious millet recipes, trying a new one at least once a week. The best of what these experiments produce, I'll add here.
If you love potato cakes, you'll love Millet Croquettes.
Like a potato cake made from leftover mashed potatoes, these millet cakes are soft and creamy inside with a crispy exterior. To me, Millet Croquettes have a mouth-feel every bit as pleasurable as the best french fry, but a 1000% more satisfying on other levels. There's some real gourmet versions of millet cakes, but this recipe is pretty simple and "down home", being quick and easy to assemble.
When I make it, I make a big batch and keep it in the fridge to fry up a couple cakes as a quick lunch, or an anytime snack or a side dish with dinner. When I'm particularly lazy or pressed for time, I don't bother with the patty format and just fry it up like a mash.
You can use up other leftover millet dishes this way. To a millet salad I've grown tired of or that didn't quite meet my expectations, I add some yogurt and/or some Parmesan cheese to make a dough-like consistency, and fry it up in a little butter and oil. Delicious!
This particular recipe was inspired by what I thought were the best parts of two other recipes: Elson Haas' in A Cookbook for All Seasons and Sally Fallon's in Nourishing Traditions.
Millet Croquettes
---
1/2 cup raw millet, soaked 7-24 hours
1 1/2 cups water
1/2 small onion, finely chopped
1 small carrot, grated
2-3 tablespoons parsley, chopped
3 tablespoons grated Parmesan cheese
1 tablespoon soy sauce or 1/2 teaspoon sea salt (I prefer the salt)
butter and olive oil for sauteeing
Bring millet and water and a dash of salt, to a boil. Cover and turn heat to low, gently simmering for 20-25 minutes, until millet is tender and water is absorbed.
Add the onion, carrot, parsley, Parmesan cheese, and additional salt to the hot millet, stirring thoroughly to break up the millet grains, creating a mashed potatoes consistency.
Then use one of the methods below:
1.  Easiest method: Heat butter and olive oil in a non-stick skillet over medium heat. Drop a mound of millet mixture into the pan and using your fingers and the spoon, carefully mold the mound into a patty shape. Repeat for each patty. Saute 3-4 minutes per side or until golden and crisp.

2.  Healthier (by not using a non-stick pan) and prettier (better shaped patties), but a bit more work: When cool enough to handle, shape millet mixture into patties, and dust both sides of each patty with flour. If the mixture is just too moist and sticky to get into patties, add some more Parmesan cheese or even flour to it. Saute patties in hot butter and oil til crisp and golden.
Makes 7-8 small patties
Breakfast Millet
Hot Breakfast Millet is a great way to start the day. You can make the millet any consistency you like, from soupy to thick. I like mine cooked a little longer so it's thick, but a little experimentation will help you discover your preferences.
Hot Breakfast Millet
---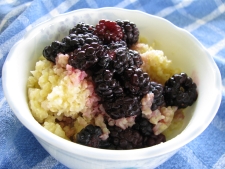 1/2 cup raw millet, soaked 7-24 hours
1 1/2 cups water (or more, if necessary)
1/4 teaspoon sea salt
1 tablespoon butter
fresh or frozen bite-sized fruit, such as berries, bananas, apples, pears
drizzle of agave nectar or pure maple syrup (optional)
Bring millet, water and butter, if using, to a boil. Turn heat to low, cover, and simmer for 20-25 minutes or until millet is tender and of the consistency you desire for a hot cereal. Top with fruit and drizzle with agave nectar or maple syrup, if using. If your fruit is frozen, add it to the pot the last few minutes of cooking.
2 servings
Maple Pecan Millet
This is really more of an idea than a complete recipe. I threw this together one afternoon when I was hungry and the husband's chips and cookies were starting to hold an appeal. Knowing I needed to cook something quick but not having any grain "on the soak", millet was the obvious choice as it's in least need of soaking.
I was pleasantly surprised at how this turned out, but I realize some may feel it needs additional flavorings. Cinnamon, nutmeg, and/or allspice would be good contenders. Some, too, might like more sweet potato.
Maple Pecan Millet
---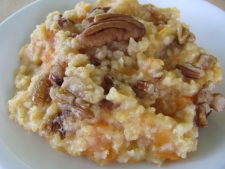 1/3 cup raw millet, soaked 7-24 hours
1 cup + 2 tablespoons water
1 medium sweet potato, peeled and rough-chopped
1 tablespoon butter
1/2 teaspoon sea salt
drizzle of pure maple syrup
chopped pecans

Bring first 5 ingredients to a boil, cover and turn heat to lowest setting. Let simmer gently for 25 minutes or until water is absorbed. Remove from heat and let steam-finish, covered, for 5-10 minutes.
Stir thoroughly to incorporate sweet potato pieces, mashing with the back of the spoon. Add maple syrup and chopped pecans to taste.
Top servings with additional chopped pecans and maple syrup, if desired.
4 servings as a side dish
Maple Millet Cakes
Maple Millet Cakes are simply an adaptation to the Maple Pecan Millet recipe above. Per my usual routine, leftover millet is made into patties and fried in the skillet. But these guys turned out to be so spectacular, I had to give them their own space here.
With maple syrup, they're great at breakfast; without the syrup, they work as a side with dinner.
Maple Millet Cakes
---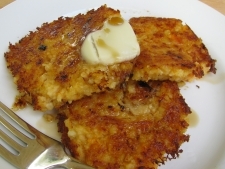 2 cups leftover cooked millet and sweet potato
3-4 tablespoons buttermilk (yogurt will work)
sea salt to taste
whole wheat flour for dredging
coconut oil (deodorized) for frying
Mix together leftover millet/sweet potato, buttermilk, and any necessary salt, using just enough buttermilk so that the millet will stick together in patties. Form into 6 patties. Dredge patties in whole wheat flour.
Heat coconut oil in a skillet over medium-high heat until it shimmers. Add patties and fry until crisp and golden.
Serve with butter and real maple syrup.
Note: Since the whole wheat flour in this recipe doesn't get soaked as grains should, one could use masa harina (soaked corn flour) or sprouted spelt flour for better nutrition and digestibility.