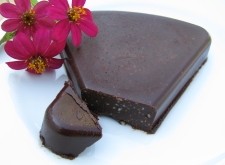 2 one-ounce squares unsweetened
    chocolate
1/4 cup unrefined coconut oil
2 tablespoons butter (preferably
    organic grass-fed, the bright yellow
    stuff)
1/4 cup almond butter (crunchy was
    used in the picture)
1/4-1/2 teaspoon stevia liquid extract
1 1/2 teaspoons vanilla
Melt chocolate squares in the top of a double boiler. Add other ingredients, and stir well. Keep over heat until everything is melted and uniform. Pour into a dish or mold and chill. Keep refrigerated.
For variation, try different nut butters or add your favorite chopped nut.
Makes 7 ounces.