Brown Rice Recipes
Easy healthy whole grain recipes using brown rice.
Brown rice is incredibly versatile; it can be infused with any cuisine flavor you want with the addition of the appropriate herbs, spices, vegetables, and other ingredients.
Organic brown rice is considered one of the four healthiest whole grains. And to make it even healthier and easier to digest, soak the grain before cooking. This does require a bit more forethought, but you can cook up large batches and refrigerate until needed. See here for a plain soaked brown rice recipe, which can be used as the basis for other brown rice recipes.
While plain cooked rice is considered flavorful enough for many, others prefer to add seasonings at the time of initial cooking. The most common practice is adding broth or bouillon to the boiling liquid, but butter is also used, as are garlic, juices, miso, or pickling spices.
If you have picky eaters in the house, there are a number of additions you can make to individual servings of a brown rice recipe that will add some of the textures and flavors your picky eaters will find familiar:
grated cheese
sour cream or thickened yogurt
bacon bits or a drop of hickory seasoning
nuts
favorite salad dressing or a shot of balsamic vinegar
It's best to keep uncooked brown rice (and other whole grains) in the refrigerator to prevent the oils from turning rancid.
---
Rice and Vegetable Sauté is my fallback recipe for a quick and healthy rice dish. As stated, the recipe is pretty basic, but you can build on it in any direction. The variations are endless as any favorite or leftover vegetable can be added (peas, asparagus, broccoli, etc.) and any spices you're accustomed to can be used.
Rice and Vegetable Sauté
---
1 tablespoon good cooking oil
1/2 red onion, chopped
1/2 red bell pepper, chopped
6-8 button mushrooms, sliced
2 green onions, sliced, divided in half
2 cups cooked brown rice
1/2 teaspoon sea salt or to taste
1/2 teaspoon garlic powder
Heat oils in skillet over medium high heat. Add onion, pepper, mushrooms, and half the green onions. Sauté until onion is transluscent and pepper and mushrooms are tender. Add rice, salt and garlic powder, and a little more oil if necessary, stirring until heated through. Serve, sprinkling the remainder of sliced green onions on top of each serving.
2-4 servings, or can be halved for one large serving.
For variation or for the picky eaters in the house, try topping with a little cheese like Parmesan, monterey jack, or feta. Or try a dallop of sour cream or plain yogurt on top.

Two of my variations:
with onions and paprika
with mushrooms,
zucchini, and chili powder
---
Mexican Brown Rice is an easy to prepare dish that seems to please everyone, even the "meat and potatoes" guys in our homes, thanks to the cheddar cheese.
Mexican Brown Rice
---
2/3 cup uncooked brown rice
1 1/3 cups water
1/4 teaspoon salt
1 cup thick syle salsa
1/2 can black beans, drained and rinsed
1 cup frozen corn
1/3 cup roasted red pepper, sliced
3/4 cup shredded cheddar cheese, divided
1 tablespoon chopped fresh cilantro (or parsley)
Bring rice, water, and salt to boil. Reduce heat to low, cover and simmer for 30 minutes, or until all water is absorbed. Stir in salsa, beans, corn, and red peppers, stirring until heated through. Add 1/2 cup cheese, and mix lightly.
Serve, sprinkling remaining cheese and cilantro on top.
4 servings

---
Brown Rice and Chard is a great combination of flavors and nutrition. Of course, spinach can be used instead of chard.
Brown Rice and Chard
---
2 tablespoons oil or butter
1/2 red onion, chopped
1-2 tablespoons water
1 1/2 cups cooked brown rice
1 large bunch Red Swiss Chard, stalks removed, chopped
(or about 5-6 large and 3-4 small leaves)
1/4 teaspoon salt
1 tablespoon soy sauce
2 teaspoons balsamic vinegar
Sauté first 3 ingredients in a large pan, until onion is tender, about 5 minutes. Add rice, then carefully add water so it doesn't spit all over you. Place chard on top and cover to let chard steam cook for about 5 minutes or until chard is tender.
(If using spinach, don't add the water. Just place chopped spinach on top of rice and cover for 1-2 minutes or til spinach wilts.)
Add soy sauce and vinegar, and stir thoroughly.
4 servings

---
Pecan Rice, how can you go wrong when you're featuring butter and pecans? I tend to think of this more as a side dish, although I've often made a whole lunch out of it. Goes great with a bright green salad with vinaigrette dressing.
Pecan Rice
---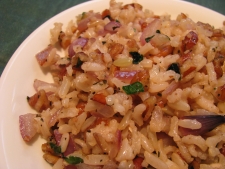 1 1/2 tablespoons butter, divided
2/3 cup red onion, chopped
1/3 cup pecans, chopped
1 tablespoon fresh parsley, minced
1/4 teaspoon dried basil
1/4 teaspoon pepper
1/4 teaspoon salt
2 cups cooked brown rice
Melt half the butter in skillet over medium heat. Sauté all ingredients except the rice, until onions are tender. Add cooked rice and remaining butter, and stir frequently until rice is heated through.
4 servings

Return to top
Return to Easy Healthy Recipes page
Search www.allaboutfasting.com

Newest Recipes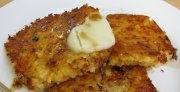 Maple Millet Cakes


Healthy Chocolate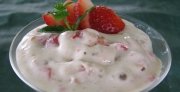 Homemade Frozen Yogurt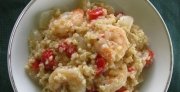 Shrimp and Red Pepper Quinoa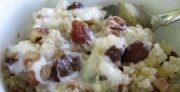 Breakfast Quinoa
Other Topics
Millet Recipes
Learn to use this extraordinary grain in great-tasting millet recipes.
Healthy Cooking Oils
The healthiest cooking oils may not be what you expect. Learn which fats contribute to a healthy body.
Recipes for Kitchari
, a traditional Indian dish of rice and beans.
Quinoa Recipes
Great recipes for this extremely healthy, versatile, and tasty "new" grain.
Cooking with Yogurt
Learn about the many uses for yogurt in your meal planning and how to get the most out of one container.
Top 4 Healthy Grains
Four grains are especially making headlines in the news and in nutritional circles for their superior dietary value.