Lentil Soup Recipes
Wholesome ingredients make a hearty, healthful soup.
Whether you like it thick or thin, classic lentil soup is a favorite for a hearty, nourishing meal.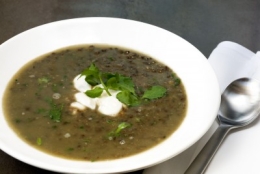 There are two favorite lentil soup recipes provided here courtesy of my sister. I never had to experiment with numerous recipes to find a favorite, because my sister had already done the work. Through her many trials, these are the two recipes that won the competition.
Variations can be made to either recipe:
Prepare in a crockpot and cook on low for 8-10 hours or on high for 3-5 hours, adding any tomato products, vinegar, or salt the last hour of cooking or after the lentils are soft
Carmelize the onion in some butter or oil before adding to the soup for a richer flavor
Adjust water amounts to make it thicker or thinner
Add garbonzo beans, then you can call it Lentil Stew
Add barley or another grain, also sometimes called Lentil Stew
Add cornmeal dumplings as per Southwestern Bean Soup with Cornmeal Dumplings
For Lentil Soup with Greens, add 1 1/2-2 cups chopped fresh spinach, chard, or mustard greens per cup of lentils used. Add spinach or chard the last 5 minutes of cooking, and mustard greens should be added the last 10 minutes.
While lentils are notorious for being quick-cooking and not requiring the overnight soak as other larger beans do, I soak my lentils overnight anyway. It increases digestibility and follows ancient traditional practices.
You may find many different varieties of lentils at the store, most commonly brown, red, and green. Any will work in lentil soup recipes, but red lentils disintegrate somewhat during cooking making a creamier texture, and green lentils hold their shape especially well. Choose a variety based on your own preferences.
By the way, lentils are packed with nutrition in the form of B vitamins, calcium, phosphorus, potassium, zinc and iron, and provide good quality protein and fiber.
---
Indian Red Lentil Soup is my personal favorite, even though I don't always have the red lentils on hand. Brown lentils work just fine. I often serve this with a dollop of yogurt on top.
Indian Red Lentil Soup
---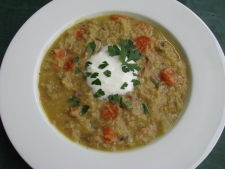 1 garlic clove, minced
1 tablespoon olive oil
5 cups water
1 cup red lentils, rinsed and/or
soaked overnight
1 cup onion, diced
1/2 cup celery, sliced thin
1 cup carrot, diced
1 bay leaf
1/8 teaspoon chili powder
1 1/2 tablespoons tomato paste
1 tablespoon sea salt, or to taste
1/2 cup fresh parsley, chopped
Bring first seven ingredients to a boil in a soup pot. Turn heat to low and add bay leaf and chili powder. Simmer until lentils are soft and tender, approximately 45 minutes. Stir in tomato paste and salt, and continue simmering 5-10 minutes more. Add parsley just before serving.
8 servings
---
This Lentil Soup recipe has more tomatoes and the addition of vinegar, ingredients that are particularly well-suited to bean dishes.
Lentil Soup
---
2 cups dry lentils
1/2 cup chopped onion
1/2 cup chopped celery
1/2 cup chopped carrots
3 tablespoons parsley, minced
1 garlic clove, minced
1 tablespoon salt, or to taste
6-8 cups water
1/4 teaspoon pepper
1/2 teaspoon oregano
2 cups fresh diced tomato, or one 15-ounce can
2 tablespoons red wine vinegar
Bring first 10 ingredients to a boil in a soup pot. Turn heat to low and simmer one hour. Add tomato and vinegar, and continue simmering an additional 30 minutes.
Return to top
Return to Easy Healthy Recipes page