Fasting Grace
by Susan Schenck, LAc,
author of The Live Food Factor and Beyond Broccoli
---
I have been fascinated with the power of fasting and cleansing for decades. I include a couple of chapters on it in my first book, The Live Food Factor. An article on the science behind the healing power of fasting is at http://www.sciencedaily.com/releases/2014/06/140605141507.htm. I had the honor of interviewing an amazing woman who completed a 50-day fast on water only. She believed she had a stroke after eating a typical Thanksgiving meal, and lost the vision on one of her eyes. The fast healed her eye, and her vision returned!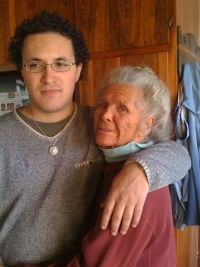 Grace Swanson with her grandson
Grace Swanson turns 86 in January of 2016. Raised in New Jersey, she grew up in show business from the age of three and was heavily influenced by Shirley Temple as a child: curly hair, tap dancing, singing "On the Good Ship Lollipop". She also begged her parents to let her go to Catholic School, and on the eve of her sixth birthday, she had a vision of Christ. That day, her appendix was removed.
When she was 15 she fell in love with a man who five years later gave her a choice between marrying him or continuing in show biz, and she chose the former, even converting to Judaism for him. They raised a family.
At age 35 she took up yoga, which she did until age 84. Now she just does it in her head. (Note: Some studies have shown there is benefit in mentally exercising your body, when physically you are unable.) She had six falls from 2008 till now, so this prompted her to be more cautious.
After 29 years of being married, Grace found that her marriage wasn't supporting her spiritual path, though they loved each other. She was 43 when they parted, but stayed close. At the age of 45, she was doing a lot of isolation work at Esalen Institute when she had a vision of a tall man with long hair and blue eyes, with the light of the sun falling on them while he was carrying her. His face resembled the image she had of Christ when she was six years old. Later she met him at Esalen and he later became her husband. He was 17.5 years younger than Grace, and they were together for 30 before he was killed in a car accident, trying to avoid a deer.
Grace first discovered the wonderful power of fasting decades ago, drinking only water and taking no supplements or medications. Whenever she felt any kind of physical symptom displaying a lack of health, she would simply not eat until she felt better. Usually she goes out to a cabin in the wilderness or mountains, but one time she fasted under doctors' supervision at the True North Clinic. She highly recomends this place. The doctors were astounded by her blood work which showed her to have health way beyond the average person in her age group.
One of Grace's earlier fasts was in the 1970s when she had a health crisis. One tooth had the nerve exposed, creating excruciating pain. "It built up, like being in labor," she explained. She went 72 hours without eating and suddenly felt a huge relief from the pain. A thought came to her: "Keep going!" so she ended up fasting for 28 days. "Pain is the greatest gift given to me if I stay with it," she says. "It's like labor. You go into altered states and get amazing relief." The fasting cured the tooth and the poisons came out.
An inner voice declared, "This is your journey. Do not be afraid."
"I've lived so much from not being afraid," says Grace. "I just stop eating, and everything is OK."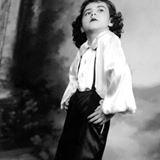 A young Grace
Grace stopped what she calls her "compulsive behavior" of exercising so much at age 81. She would jog for hours in the mountains barefoot. Later in one of her last runs, she fell on concrete, missing a step while running in the dark. She bled all over and immediately went into a seizure and semi-comatose state. She knew if she didn't do something, no one would realize she was there, so she had to crawl to a door where she banged to get help. But that night she was able to dance and jump--no bones broken. There was no pain, either. The next day, scabs started to grow. She credited this to what she puts in and on her body, which is always healthy. Her body had the materials and lack of toxins to start healing.
Grace is a fervent believer in prayer, meditation, yoga, sungazing, and fasting. "I could meditate anywhere. The fervor of prayer got me into the stillness. And I am excited about fasting, I get euphoria."
She went on a fast at age 69/70 which ended up lasting 42 days. "Every fast is different, but in this one, I saw all of creation. I had so much energy, too, that I ran every day." She got so cleaned out and her senses became so acute that she could smell the detergent and heard people talking--from the next ridge over! (She was in the mountains of Big Sur, California, where her son owns some property on sacred land.)
By the fourth day she dosn't think about food. (Note: I read that this is how long it takes for the appetite to shut down, but only if you do water only.) The most interesting thing was that she could not tolerate drinking most water, as it smelled bad. During six weeks, she drank only four full glasses of water! She had mystical experiences, including vision after vision. She went back to being a cell in her mother's womb. She had ruptured her left eardrum but built a new ear drum and now hears better from her left ear than her right one! On day 48, six days after breaking the fast, she had her first bowel movement.
This sounds amazing, but Grace insists, "I believe I could live to eternity if I live by the Laws of Nature as they show themselves to me."
But her longest fast--50 days--was in 2014-15. What prompted such a long fast? She attended a Thanksgiving meal in which she ate bits and pieces of foods she hadn't had in 40 years. To be respectful to the hosts, she even had wheat and ham. She thought she was going to die from the pain next day. "I thought I had a mini-stroke. A flash--a huge bright light--came on the right side of my face and I couldn't see out of my right eye. But now I see fine with it." It was the most stressful fast, however, as she stayed at her home in San Luis Obispo, California. She had to deal with a rat infestation in the garage and a lot of other commotion. During the fast, she slept outside, as is her custom even when not fasting.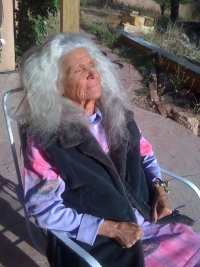 Grace sunbathing
Grace went through periods of vegetarianism and eating mostly raw fruit. "I eat what I'm drawn to now," she explains. "It shifts and changes. I have no fear. I listen to my body. When I indulge, there are major consequences. But we are evolving, mutating, and adapting to our environment--the more we stay in tune with our bodies." She talks about how now we are eating plastic! "But in the big picture, that is part of the transformation. The body adapts to these materials when we take in small doses of something that would kill us in large doses. Monsanto will even be considered a hero, causing these mutations. In the big picture, everything is in order and all is well. And I wouln't give up one hair of the pain and sorrow I have gone through."
Grace's spiritual path has taken her through Catholicism, Judaism, Buddhism, and Sikhism. But now she practices "Gracism", listening to her inner guru. "The aging process is awesome, exquisite. It's been less than a year that I had the thought, 'Grace, you're getting old. WOW! Awesome!' I used to be insecure, shy, and embarrassed to talk. But I have a lot more confidence because of my life experience." Indeed, this woman has lived many lifetimes in 86 years, having been in show business, and later a Feldenkrais practitioner, a yoga and meditation teacher, a wife to two men, mother, grandmother and great-grandmother.
She has been doing sungazing for 15 years. It took nine months to get to 45 minutes, starting at 10 seconds a day and adding 10 seconds a day. She now does 15 minutes in the morning and another 15 at night. She learned this from HRM, HiraRatanManek. "It is food for my brain. I get all kinds of insights and visions due to the sun hitting the pineal gland. I never use sun screen. I also do an hour of nude sunbathing each day. I've been doing that forever."
"Fear gets in the way of experience. Have faith with fervor. Then you can get a quantum leap in consciousness!" she advises us.
Grace's final words of wisdom: "Fall in love with the light that flows within you. Be most attached to that, and model that to the world!"
Susan Schenck, LAc, is an award-winning author of The Live Food Factor and Beyond Broccoli. She does health coaching on Skype and can be contacted at LiveFoodFactor@yahoo.com.
Grace can be contacted at graceswanson22 [at] gmail.com.
Response from AllAboutFasting:
Thank you, Susan, for sending me this article! I'm sure everyone will enjoy reading about Grace's life and experiences.
What a lovely woman she is. She is an inspiration to us all.
Blessings,
Katie