Vegetarian Bean Recipes
Flavorful, healthy bean recipes.
Beans can be such a healthful item in your daily meal plans by following great vegetarian bean recipes.
Most of the following recipes call for canned beans since that's what most of us have on hand. But the better alternative is to keep frozen cooked beans at the ready. While canned beans are good for us nutritionally, they are far surpassed by homemade beans.
"Flavored" beans, such as "Southwestern" or "Italian", will have several added ingredients to kick up the flavor, such as sugar, MSG, and autolyzed yeast extract, which often harbors MSG. But not all the added ingredients will be ones you can pronounce.
For canned beans, it's best to buy the plain versions and season them yourself. But even "plain" canned beans typically have:
high amounts of salt (in the form of pure sodium) added
additives to promote color retention and maintain firmness, including EDTA which is known to trap minerals, preventing your body from utilizing them
been cooked for very long periods of time at very high temperatures, destroying more of the nutritive value than home cooking methods do
If at all possible, make your own "plain" beans with the help of a crock pot and freeze them in similar portions to canned beans -- 14-16 ounces. I do this with my two favorite beans that I cook with all the time, black and pinto, and buy canned beans for the occasions I want navy beans, kidney beans, or garbonzos, etc.
Homemade beans typically have a firmer texture than canned. If you prefer the softer canned bean texture, you can cook your homemade beans much longer than most recipes call for. The softer texture is definitely better for making purees, such as hummus.
In general, beans are a rich source of vegetable protein and are high in soluble fiber. Homemade beans especially, are high in minerals and B vitamins.
---
Southwestern Bean Soup with Cornmeal Dumplings is a hearty dish utilizing the convenience of a crock pot. The dumplings add such a flair that I've often made this dish for company. Consider adding the dumpling part of this recipe to other favorite soup recipes.
Southwestern Bean Soup with Cornmeal Dumplings
---
For soup:
1 (approx. 15 ounces) can kidney beans, rinsed and drained
1 (approx. 15 ounces) can black beans or pinto beans, rinsed and
drained
2 1/2 cups water
1 (approx. 14 ounces) can stewed tomatoes
1 (10 ounce) package frozen whole kernel corn, thawed
2 medium carrots, sliced
1 large onion, chopped
1 (4 ounce) can chopped green chili peppers
6 vegetable bouillon cubes
1 to 2 teaspoons chili powder
2 cloves garlic, minced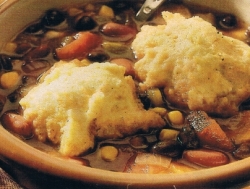 For dumplings:
1/3 cup all-purpose flour
1/4 cup yellow cornmeal
1 teaspoon baking powder
dash salt
dash pepper
1 egg white, beaten
2 tablespoons milk
1 tablespoon cooking oil
Combine all soup ingredients in a 3 1/2 or 4 quart crock pot, cover and cook on low for 10-12 hours or on high for 4-5 hours.
About 45 minutes before you're ready for dinner, mix up the dumplings: In a medium mixing bowl, combine flour, cornmeal, baking powder, salt, and pepper. In a small mixing bowl, beat egg white, then add milk and oil. Add this to the flour mixture and stir with a fork just until combined.
Turn crock pot to high setting and drop dough from a rounded teaspoon on top of soup, making 8 mounds. Cover and cook 30 minutes more, without lifting lid.
4 servings
---
Cajun Skillet Beans recipe comes from the cookbook Moosewood Cooks at Home. My notes from the first time I made it say, "Good! even without the cheese!" This is a consistently good recipe that stands up well to variations when you're out of something. Different beans, substituted vegetables, dried herbs, etc., all still create a wonderful dish.
This can be served over rice and leftovers are great wrapped in a tortilla.
Cajun Skillet Beans
from Moosewood Cooks at Home
---
1 medium onion, chopped
3 garlic cloves, minced or pressed
2 tablespoons vegetable oil
3 celery stalks, chopped (=1 cup)
2 green or red bell peppers (=1 1/2 cups)
1 teaspoon chopped fresh thyme (or 1/2 teaspoon dried)
1 tablespoon chopped fresh basil (or 1 teaspoon dried)
1 teaspoon chopped fresh oregano (or 1/2 teaspoon dried)
1/4 teaspoon ground black pepper (or to taste)
pinch of cayenne
pinch of salt
2 cups chopped fresh or canned tomatoes
1 tablespoon honey or molasses
1 tablespoon Dijon mustard
4 cups black-eyed peas or butter beans (two 10 ounce frozen
packages or two 16 ounce cans, drained)
chopped scallions (optional)
grated cheddar cheese (optional)
In a heavy saucepan or skillet, saute the onions and garlic in the oil on medium heat. Add the celery and bell peppers, and continue to saute for about 5 minutes, stirring occasionally. Add the thyme, basil, oregano, black pepper, cayenne, and salt. Cover and cook for 5 minutes or until the onions are golden, stirring once or twice.
Add the tomatoes, honey or molasses, and mustard, and simmer for 5 more minutes. Add the beans, cover, and stir occasionally until thoroughly heated. Canned beans will be hot in less than 10 minutes, but frozen beans need to simmer for 15-20 minutes.
Top with scallions and/or grated cheese, if you like, and serve.
---
Easy Spiced Beans is quick to throw together with minimal prep work. You can make this dish as spicy or as mild as you wish and serve with or over a cooked whole grain.
Easy Spiced Beans
---
2 (15 ounce) cans black beans, undrained
2 fresh jalapeno peppers, seeded and chopped (or 1-2 teaspoons hot
sauce)
1 teaspoon ground cumin
1 tablespoon chili powder
1/4 teaspoon black pepper
1/2 cup cheddar or pepper jack cheese, grated
2 green onions, sliced
1/2 (2 ounces) can sliced black olives
Preheat oven to 350 degrees F. Pour beans into a 2-quart casserole and carefully mix in the jalapenos, cumin, chili powder, and pepper. Bake, uncovered, for 30 minutes. Sprinkle with cheese, green onions, and black olives and bake an additional 5 minutes.
4-6 servings

Return to top
Return to Easy Healthy Recipes page
Search www.allaboutfasting.com

Newest Recipes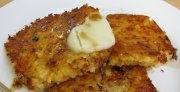 Maple Millet Cakes


Healthy Chocolate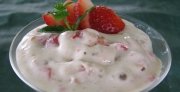 Homemade Frozen Yogurt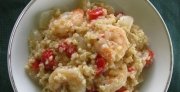 Shrimp and Red Pepper Quinoa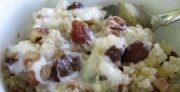 Breakfast Quinoa
Other Topics
Lentil Soup Recipes
Homemade lentil soup is so easy to make and so nourishing. With minor variations and/or additions, you can create perfection.
Healthy Salad Dressing Recipes
Throw out your bottled dressings and learn to make healthy salad dressings from fresh ingredients.
Recipes for Kitchari
, a traditional Indian dish of rice and beans.
Healthy Cooking Oils
The healthiest cooking oils may not be what you expect. Learn which fats contribute to a healthy body.
Organic Produce
When it's most important to choose organic and which fruits and vegetables are considered safe to consume non-organic.
Soaking Grains
For the greatest nutrition and easy digestibility, we should soak our grains before cooking.